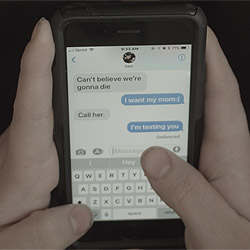 This morning at about 11:15, after a very early start, director Xander Borg called, "It's a wrap!" on 'No Connection, Try Again Later' for The Impact.
I had the great pleasure of acting as one of the producers and getting to work with him and actor Trevor Young (no relation to me!), as well as cinematographer Aaron Franke, whose footage looks amazing as I sit here reviewing it tonight.
Jaye Swift provided us with a great script to work from, and I can only hope when she sees our version of her film she'll be happy with how it turns out.
Tomorrow, Aaron joins me again as we shoot Nicole Robb's poignant, We Were Human, my last film for The Impact project. I have two amazing actors starring in it, so I feel confident that we'll have yet another film worthy enough to withstand the Create50 judge's scrutiny next year.

And big thanks to Rey'na Borg and James Garrison for helping out during the production! Always glad when you're both involved in one of Xander's films. :)
Scott Young