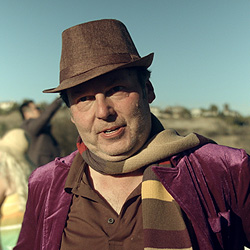 Making 'The Travellers' represented somewhat of a milestone for me as it is pretty much the first film I have made/directed that I have NOT written myself.

This definitely presented a number of challenges for me, but made the process more enjoyable as a result!

Usually, pre-production for me is fairly straightforward as I have the whole film and concept mapped out thoroughly in my head from the writing process.
With 'The Travellers', I found myself putting a lot of time and effort thinking through what the story meant to me and how I wanted to visually put that on the screen. As I spent time with the characters and the story, I started to crystalize a vision for how I would like to tell the story.

At this point I had a lot of great discussions with Matt Giannin who wrote the original script. I will say that the original script was extremely well written. The strong characterization that Matt was able to create in two short pages was very impressive and the main reason that this was my top pick from all the selected finalists. And fortunately, Matt was very supportive of my interpretation of his work and my proposed changes/additions.

I wanted to bring a whimsical undertone to the piece to really drive home the frustration that Paul feels and the different mental spaces that the two main characters are operating in. Although I'm conscious of the fact that this may be slightly at odds with the broader Impact50 vision, I felt I had to stay true to my vision for this story regardless.

I definitely wanted to visually portray Marty's eccentricity, hence his bright choice of wardrobe. From the first moment you see him, you sense he is "off" somehow... To further reinforce that Marty was really tuned into a different plane of existence, I gave him the spatula to use as an "antenna". He is so preoccupied with tuning into his alternative plane of existence that he's not really ever paying full attention to Paul until the very end, once he has reached his destination.
For me, Marty's journey is split into three distinct parts, each delineated by a deliberate change in location. At the beginning, Marty is totally distracted and not really paying attention. In the middle section he is "half way" - getting closer and at least responding to Paul, who is still chasing him. Ultimately, Paul is looking up at Marty, who assumes a position of authority as he finds his people, and thus turns the table on Paul from where the scene started; Paul is now being pulled into Marty's world and is no longer chasing him. This dynamic progression is essential to telling this story (in my opinion).

Supporting Marty's journey is the score that was expertly crafted by my composer, Faraz Emamdoust. The melody he created perfectly encapsulates Marty's state of mind and the repetition with key changes captures madness beautifully.

Of course, huge credit for bringing the two characters to life has to go to the very talented Rich Fulcher (The Mighty Boosh, Curb Your Enthusiasm, Rick & Morty) and Harry van Gorkum (Friends, Seinfeld, NCIS and the current face of the DISH Network in the US). We had all been talking about doing a project together for awhile and the characters crafted in 'The Travellers' provided the perfect opportunity for us to get together and do it! I think Rich and Harry play off each other so well and I was so happy to have them both be a part of this.

For those interested in more technical details, we filmed on a BlackMagic Pocket Cinema Camera with metabones and a Sigma ART 18-50mm lens. This camera is a workhorse, but compact and relatively cheap to boot. It records a solid log profile (ProRes HQ) which leaves a lot of room for color grading, which was expertly performed by Mark Osbourne.

Overall, I'm very proud of the final film and I hope it will also have a life outside of the Impact50 as a standalone short.

As for me, I'm currently finishing up a second entry for Impact50, so look out soon for my version of "I'm Afraid It's Bad News".

Cheers,

Martin