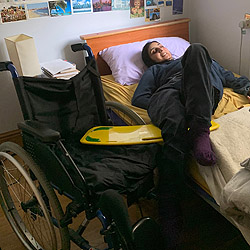 I contacted Zade Aerial who were excited to take up the project. I was struggling to find a Indian actor and fellow Talent Camper Omar put me in touch with an actor friend of his, Yanick who really liked the Impact idea, script and was excited about joining the project. Unable to find a disabled Indian actor, I had some encouragement from another fellow Talent Camper Bob, to get it filmed myself, it was a huge decision between spending another day on bed rest or miss this exciting collaborative opportunity.
So I took it up. Zade and I talked in detail about the project, came up with additional ideas that could help bring the story alive and feel more cinematic. The small team of 2 film makers, an actor and myself, changed small things along the way. The film was shot in one day. Despite a very tiring day we got all the shots that were needed. Zade went off to start the edit and the results were as I had hoped.
Behind The Scenes Stills...
Have your say on the edit below...